CCDC honors long-time employees, topnotchers, retirees
IN A FITTING TRIBUTE program, Cordillera Career Development College (CCDC) honored its employees who have been in service for a long period as part of its 30th foundation anniversary celebration on April 3.
Dubbed Man-Iyaman Recognition Program, the event also commended a pair of retiring employees as well as two more alumni who were topnotchers in recent licensure examinations.
CCDC will not reach this far if not for the human resources who have tirelessly worked to put prime on delivering quality education, said school president Sherry Junette Malaya-Tagle.
Plaques of recognition were given to Fabiola Abellera Lucop and James Marciano Malaya for being the longest serving personnel; staying with the school since its inception in 1993.
Lucop was hired in June 1993, just two months after CCDC was officially registered with the Securities and Exchange Commission. She is currently teaching in the senior high school and also a professor in the graduate school and college of accountancy.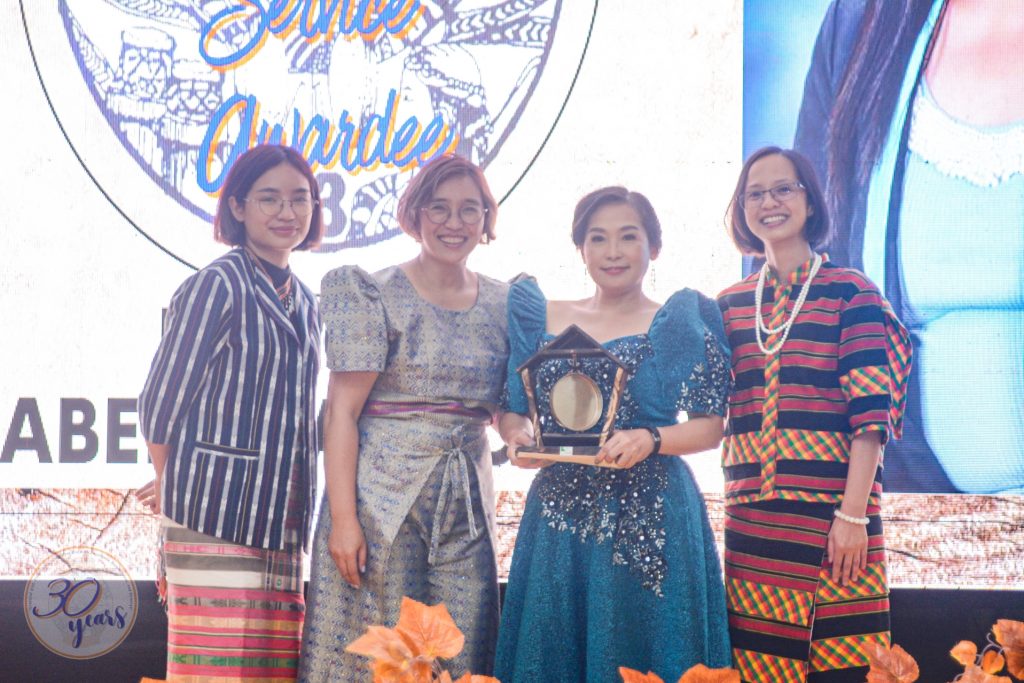 Meanwhile, Malaya is the founding president and chair of the board, leading the rise of the school from mere vocational classes to now a multi-program educational institution offering pre-school to post-graduate programs.
Also given honors for working for CCDC for 25 years are Jean Paul Guevarra, Beverly Milo, Maritess Pimentel, and Grabriel Sagandoy.
Guevarra is among the school's safety officers and insurance coordinator while Milo is the program coordinator of the Junior High School Department.
Meanwhile, Pimentel is a faculty in the College of Business Education and Administration as well as in the graduate school department, while Sagandoy is general services personnel.
Personnel who stayed with CCDC for more than 20 years were also recognized in the awarding program. They are Ronalyn Aludos, Rodolfo Bongcato, Rashelle Caleño, Sesinando Millari, and Venice Tuldague.
Aludos served as executive secretary and now the student accounts clerk and scholarship coordinator under the Finance Department; while Tuldague was first hired as a clinical instructor before becoming the former dean of the Health Education department.
Meanwhile, Bongcato and Millari are general services personnel while Caleño is a records officers of the registrar.
Fifteen, 10, and 5-year awardees were also commended which is among the highlights of the anniversary week celebration.
The 15-year awardees are payroll officer Beverly Julian, and midwifery department principal and Birthing Clinic administrator Marie Fe Kidatan. On the other hand, the 10-year awardees are Thelma Amayag, who is the Chief Librarian; Lourence Miguel, who is an instructor in the criminal justice education department; and Audio-Visual Technician Ruel Palgue.
The 5-year awardees are Tessie Akiapas, Rovelyn Antonio, Jesse Arce, Juvy Baso, Missy Ging Binwag, Percival Cael, Jiwani Mae Laroza, Ferlyn Chrydle Lumiqued, Roselle Mabana, Lorena Macasling, Marcela Pacsi, and Kelly Mae Tiongan.
CCDC also gave special commendation to two of its long-term employees who retired –Rolando Bayeng Langag and Nardo Anongos Pastor.
Langag was employed in June 1999 as sanitation personnel and has retired in January 2023. Meanwhile, Pastor was hired in June 2003 as science instructor in the College of Teacher Education Department and is the planning officer. He will be officially retiring this May.
In the same event, CCDC extended its recognition to recent alumni who topped recent licensure examinations. These are Kathrine Vaneza Sierra, who was Top 7 in the Social Work Licensure Examination last February 2021, and Iris Hope Alilao, who was Top 10 Midwifery Licensure Examination, November 2022.*
(Photos during the event may be accessed through these links: Part 1    Part 2 )