The School Seal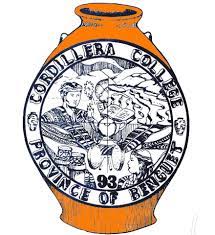 ---
The TERRACES remind us of the character of the Igorots behind the Natural Wonder. It emphasizes that industry, courage and hope are key elements to attain our goals.
The SOLIBAO reminds the Institution to be forever faithful to its calling of leading the way for the Filipino Youth, particularly the Cordilleran, to a promising future by providing quality and competitive education they so much deserve.
The beautiful and indigenous music from the GONGS describe the harmonious atmosphere within the academic community.
The various academic fields of the College are represented by the LAMP, WHEELS, BOOKS and TORCH, while the ENTWINED BLANKETS reiterate the unity of all the Cordilleran tribes, these prove further that there is unity in diversity.
MAN and WOMAN represent THE CHILD who is the center of the educational process.
HOLISTIC DEVELOPMENT OF THE PERSON represents the central theme of the entire vision and mission of the institution.
The JAR illustrates that these precious treasures are under the care of the fortified earthen vessel.