College of Business Education and Administration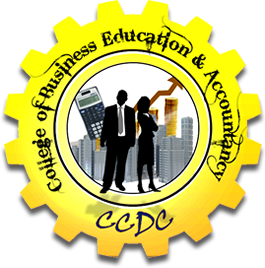 ---
VISION
Through its offered college programs, and short-courses, skill-based programs, it works to equip the students with relevant knowledge, skills and values in preparing them to become effective, efficient and socially responsible individuals in their chosen profession or vocation, and capable of responding effectively to the pressing needs of the economic growth and development of the local, regional, and national community.
MISSION
A center of excellence in developing quality, skilled, and competent graduates prepared for a productive contribution to business and society, particularly in the fields of entrepreneurship, office management, and hotel and restaurant management, as well as other relevant technical skills, which consequently leads to holistic development.
Department Objectives:
Equip students with distinctive competencies to ensure and sustain a competitive advantage.
Instill personal and social values to build a body of convictions and guiding beliefs based on personal relations and social responsibilities.
Provide opportunities and enable spaces for alternative learning for all students.
---
PROGRAMS
BS Entrepreneurship
OBJECTIVES: Upon completion of the course, the entrepreneurship graduates:
experienced putting up a business enterprise applying the principles of entrepreneurship;
conducted market and operations research;
prepared credible business proposals and feasibility studies; and,
exhibited the qualities of a productive entrepreneur such as, but not limited to, being creative, being a risk-taker, being an opportunity-seeker, being an innovator, and being persistent.
BS Office Management Program
OBJECTIVES: Upon completion of the course, the office management graduates:
have acquired knowledge and applied office procedures and requirements in medical, tourism, and legal offices;
prepared training designs and facilitate the implementation of these;
operated steno machines for speed writing;
manifested excellent written and oral communication skills; and,
practiced proper office etiquettes.
BS Hotel and Restaurant Management
OBJECTIVES: Upon completion of the course, the hotel and restaurant management graduates have:
manifested competent communication skills and the necessary basic management tools to practice the profession;
acquired the knowledge and skills that will enable them to analyze problems and determine appropriate solutions;
imbued the desirable work ethics and values that are crucial factors in dealing with guests and co-workers; and,
been prepared with the knowledge, skills, and attitudes for entrance and advancement in the various positions in the Hotel and restaurant industry.
HOUSEKEEPING NC II
OBJECTIVES: Upon completion of the course, the housekeeping graduates have performed the following skills competently in hotels, motels, clubs, hospitals, resorts, dormitories or luxury liners:
prepared guest rooms;
cleaned the premises and equipment meticulously;
did laundry for linen and guest's clothes;
provided effective housekeeping services; and,
provided valet services.
BREAD AND PASTRY PRODUCTION NC II / BAKING NC II
OBJECTIVES: Upon completion of the course, the bread and pastry production/baking graduates have performed the following competently in hotels, motels, restaurants, clubs, canteens, resorts and luxury lines/cruises or other related operations:
prepared and produced bakery and pastry products;
prepared and presented gateaux, tortes and cakes;
prepared and displayed petits fours; and
presented and served other plated desserts.