College of Criminal Justice Education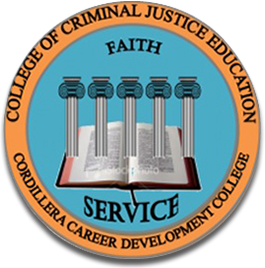 ---
Brief History of CCJE
The Bachelor of Science in Criminology was granted Government Permit TP No. 084, s. 1996 issued May 1996 to operate and was granted Government Recognition GR. No. 152 s. 1999 in July of 1999 by the Commission on Higher Education Cordillera Administrative Region (CHEDCAR).
---
VISION
The College of Criminal Justice Education envisions to produce graduates who are morally, mentally, physically, and spiritually, upright towards their career in the field of Criminal Justice.
MISSION
The College of Criminal Justice Education shall produce graduates who are geared towards Holistic Development, dynamic and competent leaders in the field of Law Enforcement Administration, Criminal Sociology, Crime Detection and Investigation, Forensic Science and Correctional Administration.
Department Objectives:
Upon completion of the course, the Criminology graduates who are equipped with relevant knowledge, skills, attitude, and values will be able to:
Conduct criminological research on crimes, crime causation, victims, and offenders to include deviant behavior;
Internalize the concepts of human rights and victim welfare;
Demonstrate competence and broad understanding in law enforcement administration, public safety, and criminal justice;
Utilize criminalistics or forensic science in the investigation and detection of crime;
Apply the principles and jurisprudence or criminal law, evidence and criminal procedure; and
Ensure offenders' welfare and development for their re integration into the community.
---
PROGRAMS
BS Criminology
OBJECTIVES: Upon completion of the course, the criminology graduates have:
developed higher concepts of citizenry, accountability, and Christian Leadership, and understanding of one's moral responsibility to his fellowmen, his community, and his country;
inculcated and instilled in themselves the value of service to community;
had a thorough background of the cultural diversities of society and an understanding of human rights;
developed the necessary skills on criminalistics, criminal jurisprudence, and procedures, law enforcement administration, crime detection, investigation and prevention, correctional administration and jail management, and understanding criminal sociology, ethics and human relations through seminars and symposium;
inculcated the moral, spiritual, social values, traits, and character required of an officer and a gentleman, practicing the honor code, obeying the code of conduct for public safety practitioners;
been equipped with the necessary competencies to pass government professional examination and become a License Criminologists;
conducted researches on the most recent development regarding security, public safety services as training for their continuing professional growth;
practiced environment rehabilitation and enhancement activities like tree planting, jail visitation and clean up drives; and,
enhanced employment marketability through added skills in driving, marksmanship, self-defense, swimming, first aid, and other lifesaving skills.