CCDC bans single-use plastics, styro-made food packaging, utensils
BY SEPTEMBER 20, all single-use plastics and Styrofoam-made food and drinking packaging and utensils will be strictly prohibited from being used, sold, or even allowed inside Cordillera Career Development College (CCDC) and its auxiliary facilities.
School President Sherry Junette Malaya-Tagle issued College Memorandum No. 4 on August 7 which allows over a month-long transition period to students, employees, concessionaires, and other stakeholders before strict implementation of the policy.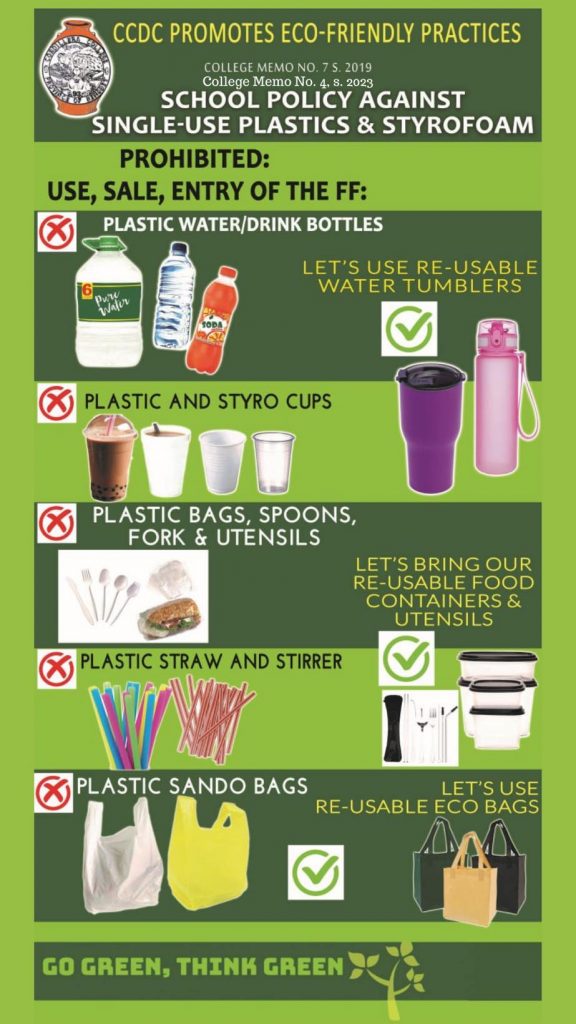 The prohibition covers school-sanctioned curricular, co-curricular, and extra-curricular activities done inside the campus such as parties, sporting events, field trips, and trainings.
"As an educational institution, we have the unique spread and influence to educate our students and households to promote eco-friendly practices and the need to avoid the use of single-use plastics and Styrofoam containers in favor of exploring and using green alternatives," said Tagle.
Concessionaires within the campus are no longer allowed to sell single-use plastic bottles by Sept. 20 but may offer water by providing washable drinking glasses or through refillable drinking containers.
CCDC's water refilling station will also be providing free tumbler refills to students, employees, and guests.
Tagle said employees, students, parents, concessionaires, and stakeholders are also encouraged to explore and embrace their own personal green alternative practices to counter the current throwaway culture and promote sustainable lifestyle.
"Sharing of eco-friendly practices both at home and in school is an effective mechanism to educate the community on alternative and eco-friendly practices," she said.
To ensure compliance, the policy allows security officers to check the prohibited materials upon entry at the school. Disciplinary sanctions are also meted to violators from verbal warning on first offense to suspension or expulsion on repetitive violation.
Only the Admirals Farm Park in Puguis, La Trinidad and CCDC Entrepreneurship Center are exempted from the total ban; allowing regulated use. Other exceptions may be allowed on a case-to-case basis, subject to the approval of CCDC Administration, said Tagle.
"As an advocate of eco-friendly practices, this policy further deepens CCDC's commitment to sustainable practices towards climate change mitigation," said Tagle.
In addition to the policy, Tagle said CCDC will also be upgrading its solar power system installed in 2016 to a larger 16-kilowatt photovoltaic system. Thirty-six additional solar panels are expected to be installed adjacent to the solar panels on the roof its Tuppay-ya Complex.
The solar power system serves as a cleaner alternate source of electricity, lessening the school's reliance to the local power distributor.
Rain catchment containers are also installed across campus to reduce reliance to commercial water sources, Tagle added.*